When most people think about the need to engage a real estate agent, it is typically related to buying or selling real estate. This can be said in residential real estate when it comes to selling or purchasing a home and in commercial real estate when it comes to either buying or selling a building for a business to operate in. But what if you don't want to own the real estate you occupy and would prefer to rent it, or another word for it would be to lease it instead? And what if you're not sure what that process looks like? That is where tenant representation comes in. Although a real estate agent may not be needed to lease an apartment in the residential sense, engaging a real estate agent to help an individual lease space for their business can save them thousands of dollars and help swing the lease terms in their favor.
So, what exactly is tenant representation? The underlying goal of tenant representation is for the tenant representative (tenant rep) to get the best deal possible for their client in terms of their lease. The best value of a lease is stereotypically related to a low lease rate; if the lease rate is below market rates, the tenant may feel like they won. But the reality is the best deal is entirely dependent on the client, and it is the tenant's rep to fully understand what topics are most important to their client to get the best deal unique to them. One example is if the client is looking for assistance with their buildout if the space doesn't perfectly fit their needs. The tenant rep can help navigate the conversation with the landlord that their client is looking for tenant improvement dollars, which could help define a better deal for them. Another example may be if the client is starting a new business and wants discounted rent to allow time for their business to scale up. The tenant rep could help negotiate some rental abatement dollars to provide time to let the business do precisely that. Although the goal is to get the best deal, it is the responsibility of the tenant rep to help their client define the best value for them and then go forth and negotiate based on those terms.
Now, knowing what tenant representation is, why is it important? Tenant representation can help clients save money and time. Leases are black and white, legally binding documents, but getting one ready to sign can be confusing, and no two leases are the same because no two deals are the same. They are all unique to the client's specific needs/desires. Identifying these needs and negotiating on their behalf can get a client into space sooner, which helps save time and helps keep money because it gets them operating quicker.
So, what is Inventure Real Estate's process behind tenant representation? Our process begins with the client signing an agreement allowing us to represent them. We like to set up a meeting that helps us gain the knowledge of precisely what you, as the client, are looking for within a space. Some of these items include square footage needed, preferred location, any specific use requirements such as in-suite plumbing, ideal lease length, and timing, to name a few. We then scour our networks to find available spaces that fit your needs. This is done by utilizing online listing platforms, talking to other agents, and identifying any off-market locations that we may know of. Using that information, we will create a list for you to review and provide feedback. We can then set up tours for the sites you wish to view. Once a few selections rise to the top, the core part of tenant representation sets in, and that is lease negotiation.
Lease negotiation typically begins with a request for proposal (RFP) being sent back and forth between the tenant rep and the landlord or the landlord's leasing agent if one is engaged. The main goal of this step is to establish the framework for what will be the eventual lease. During this step, many big-picture items are discussed, such as TI dollars, expectations of how the space will be delivered, lease length, and any other vital items that are unique to you as the client. Once both parties have agreed upon those items, the RFP will act as the basis for drafting the lease. Once drafted, it is the tenant's rep's responsibility to continue to work with the client to get the lease to a spot that the client is ready to sign through further negotiation if needed.
Although getting to a signed lease is only one step in a client being able to open the doors of their business, it is a vital step in securing long term success because of the opportunity to save valuable resources and to help provide clarity in what can be a confusing process. For those reasons, we at Inventure Real Estate find great pride in assisting our clients through tenant representation. If you have any questions about the process or are looking for representation, please do not hesitate to contact us today for a free consultation.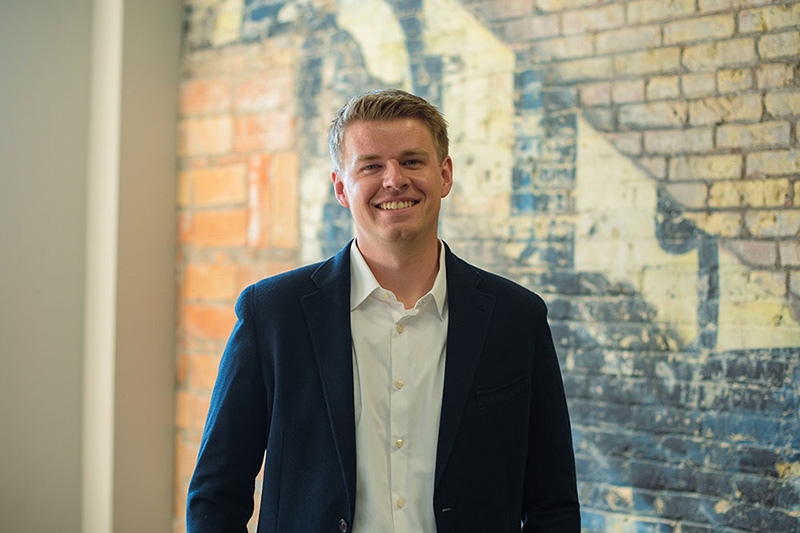 Jake Cleveland
Jake Cleveland is a Real Estate Associate at Inventure Real Estate and is an up and coming real estate agent in the Greater St. Cloud community. His professional background before getting into commercial real estate included varying sale and leadership roles and he holds a bachelor's degree in management from St. Cloud State University. With a transaction history to prove itself in guiding clients through acquisitions, dispositions and leasing he is an asset to not only his clients, but also in providing resources to assist our team at Inventure.